Guten Morgen Fotofreunde,
es ist Katzensamstag und damit Zeit für Fotnachschub an der felinen Front. Dazu habe ich die gestrige Abendsonne ausgenutzt und bin, mit der Kamera in der Hand, meinen Katzen hinterhergeschlichen um mal wieder ein schickes Portrait zu erhalten. An der Kamera durfte ausnahmsweise nicht mein geliebtes 45mm zum Einsatz kommen, denn ich habe mal wieder ein Altglas ausgepackt. Das Minolta Rokkor PG 50mm F1.4. Ergo Offenblende und ran an die Katz'.
So und nachdem ich Euch nun schon so oft von meiner Wohnung und meinen Katzen erzählt habe und ich Euch eigentlich auch nicht langweilen will, gibt es heute ein #Caturday Spezial. Ich habe natürlich ein Portrait aufgenommen, sonst würde ich ja nicht davon schreiben. Aber Ihr wisst vermutlich, das ich nahezu immer im Rohdatenformat fotografiere. Daher ist vielleicht einfach die mal die Zeit ein Vorher-Nachher-Bild zu zeigen.
Es folgt: Das Bild nach der Aufnahme
Bäm! Here it is….Illusion straight out of cam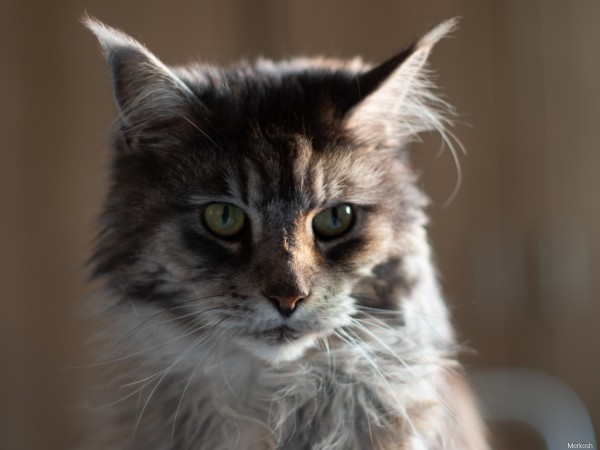 Etwas dunkel geworden und kühle Farben bestimmen das Foto. Wie aber komme ich nun zum fertigen Bild, was Ihr ganz am Ende sehen dürft? Ich erkläre es gerne.
How to tame your camera
Ich fange mit den Basics an. Wie war die Kamera justiert. ISO 200, denn es ist hell genug gewesen. Die Belichtung stelle ich oft auf -0,5 (persönliche Vorliebe) und die Verschlusszeit passe ich an. Da ich ein Altglas genutzt habe und generell ein weiches Bild haben wollte war die Blende auf maximaler Öffnung. Beim Rokkor besagte F1.4. Den Weißabgleich überlasse ich in der Regel der Kamera, ich ändere es in der Bildbearbeitung, sofern Bedarf besteht.
Nach der Aufnahme importiere ich das Foto in Lightroom und die Entwicklung geht es los. Das Bild selbst musste wärmer und vor allem heller werden. Daher erst einmal ein Stück nach oben mit der Farbtemperatur und eine dezente Anhebung der Belichtung. Raus mit den Tiefen, raus mit dem Schwarzanteil und dafür die Sättigung noch etwas hoch. Eine eingefügte Vignettierung und davor noch an der Schärfe geschraubt. Einige Einstellungen, welche mich zum finalen Ergebnis gebracht haben. Gut, ein paar Details habe ich unterschlagen, ich wollte Euch aber nicht die Schritt-für-Schritt-Anleitung zum kompletten Workflow auf den Tisch legen.
Aber nun, ich sprach von einem Ergebnis. Das ist fertig und in meiner Bildergalerie auf deviantART hochgeladen. Hier im Beitrag habe ich es eingebettet und wenn Ihr auf das Bild klickt, dann könnt Ihr eine größere Variante davon ansehen. Viel Spaß dabei und bis bald, hier auf Pilgerrazzi.de